Since 1999, Technology Support Group (TSG) has been providing cost effective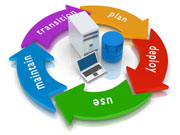 Information Technology (IT) solutions to small and medium sized businesses located in North Little Rock and the surrounding areas. We can guide you through the process of choosing solutions that fit your needs today while anticipating your needs for tomorrow.
PC Support, networking, cabling, wireless, remote access, virus removal, Quickbooks support and website design. Our highly trained staff provides professional high-quality service at a very affordable rate.

Don't waste your time and money on computer geeks, hire a professional to get you back up and running today. With our on-site computer support service, there is never any need for you to haul your desktop or laptop over to a computer repair shop.
Whether your company is implementing new technology, needs systems management or application support and training, we can meet your needs.
Technology Support Group is referral-based, we do not employ sales people to "sell" you. Taking good care of our customers is enough.
Contact us today to discuss how we can help you achieve your business goals through Technology!